Each picture links to a more detailed page.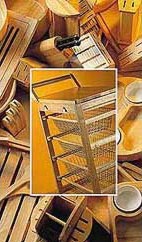 A leading producer and exporter of wooden kitchen and tableware since 1990, Sunrise Phoenix has successfully carved a niche as an original equipment manufacturer for quality woodware. Currently, our products are exported worldwide to an international market spanning countries in Europe such as UK, Belgium, Germany, Spain, Italy, Greece, Sweden, France, Holland, Portugal, Denmark and etc., as well as USA, South America, Australia and the far east.
Sunrise Phoenix's manufacturing plant is set in the Kulim Industrial Zone in North Malaysia. The plant encompasses a built-up area of 150,000 square feet with more than 300 employees.
Carefully refined over the years, our manufacturing process features a combination of skilled handiwork and specialised machinery. Customised to perform precision cutting and meet specific design demands, the automated machines are able to deliver production of the highest quality consistently. This is complemented by skilled and experienced craftsmen who employ stringent quality control to ensure superior workmanship and finishing. The manufacturing process is also inherently versatile to cater for a variety of designs and specifications, a crucial factor in responding to customer demands and stylistic changes.
Rubber wood is the first choice for our products because of its natural and bright appearance, fine finishing and staining properties, and environmentally - friendly characteristics.
In meeting the uncompromising demands of the international market, our range of kitchenware, tableware and trolleys are beautiful impressions of quality and style.

---

For feedback or further enquiries regarding this website, e-mail us at: info@sunrisephoenix.com
Sunrise Phoenix Sdn. Bhd.
Sunrise Tower, 190292, Persiaran Gurney, 10250 Penang, Malaysia
Tel : 604-227 7372 Fax : 604-227 2052

© 2002 Sunrise Phoenix Sdn. Bhd., All Rights Reserved.
---
For comments / feedback of website's layout, kindly email webmaster.